2014 has begun! Can you believe it? The Standalone Reading Challenge, SARC, is back for a third year! This time, Hafsah, from Iceybooks, has a new co-host this year...ME! Britta may return next year, but for now, it's Hafsah and me! (Thanks Hafsah!)
The Standalone Reading Challenge is easy and fun - plus you'll get a chance to win some awesome prizes. Read more about the challenge and SIGN UP HERE. Be sure to grab a button for your sidebar too!
So what are you waiting for? Read a 2014 standalone - if you're not sure what counts, check out our list of Standalones here - write your review, link up, and get your name in the hat for January's prize pack!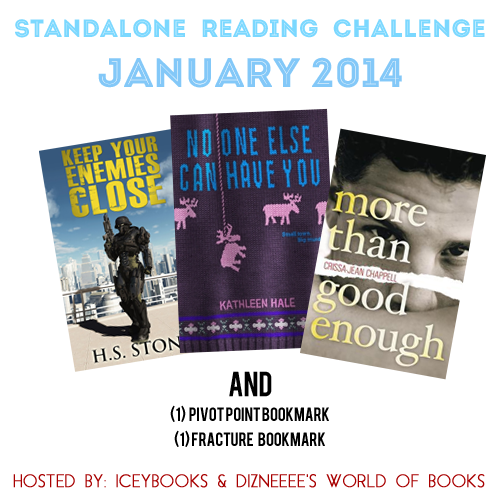 (1) KEEP YOUR ENEMIES CLOSE ebook
(1) NO ONE ELSE CAN HAVE YOU ARC
(1) MORE THAN GOOD ENOUGH Paperback
(1) PIVOT POINT Bookmark
(1) FRACTURE Bookmark
Special thanks to the donators:
H.S. Stone
Crissa-Jean Chappell
Please note, prize pack contents are subject to change. Open to US Only.
And if you still haven't signed up, do so
HERE.
So what are you waiting for? Read, Review, and Link up!